Nicholas Crawford on Plantation Provisioning and the Politics of Health in the British Caribbean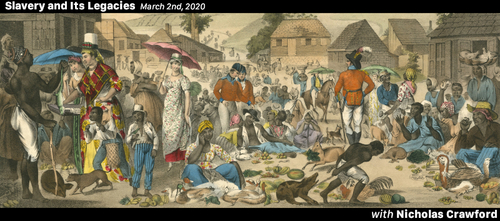 ---
Thomas Thurston talks with Nicholas Crawford on his work titled "Sustaining Slavery: Plantation Provisioning and the Politics of Health in the British Caribbean."
---
Nicholas Crawford specializes in early America with particular interests in the connections between slavery, health, and empire in the eighteenth- and nineteenth-century British Caribbean colonies.  He received a PhD in History from Harvard University (2016), where his dissertation "Calamity's Empire: Slavery, Scarcity, and the Political Economy of Provisioning in the British Caribbean, c. 1775-1834." An article stemming from this research, " 'In the Wreck of a Master's Fortune': Slave Provisioning and the Planter Debt in the British Caribbean," was published in Slavery & Abolition (2016). While at Washington University in St. Louis, Crawford will complete revisions on his book manuscript, tentatively titled, "Feeding Slavery: The Politics of Provisioning in the British Caribbean, c. 1788-1838." He was previously a Postdoctoral Research Fellow at the Institute for Advanced Study in Toulouse, France (2016-19).
---
Recommended Resources:
Sidney Mintz, Sweetness and Power: The Place of Sugar in Modern History (Penquin Books, 1985).

Judith Carney and Richard Nicholas Rosomoff, In the Shadow of Slavery: Africa's Botanical Legacy in the Atlantic World (University of California Press, 2011).

Randy M. Browne, Surviving Slavery in the British Caribbean (University of Pennsylvania Press, 2017).