Ellen Gruber Garvey on Ghost Stories of the Transatlantic Slave Trade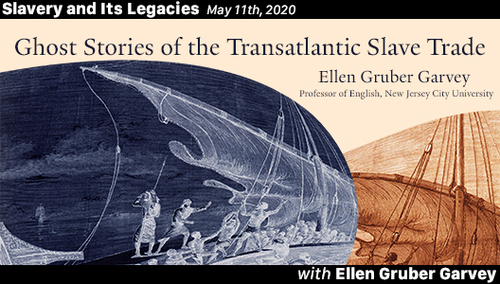 ---
Thomas Thurston talks with Ellen Gruber Garvey on her project titled "Ghost Stories of the Transatlantic Slave Trade"
---
Ellen Gruber Garvey is the author of Writing with Scissors: American Scrapbooks: from the Civil War to the Harlem Renaissance. She recently retired as an English professor at New Jersey City University, where she co-edited the journal Transformations: The Journal of Inclusive Scholarship and Pedagogy. 
She has written about nineteenth century media through many forms and issues — magazines, advertising, and women who edited magazines. She has worked as a journalist, printer, and editor; she has taught at the University of Paris 8, Temple University, the University of Pennsylvania, and the University of Massachusetts; and has held the Fulbright Walt Whitman Distinguished Chair in American Literature at Radboud University in Nijmegen in the Netherlands. Her PhD is from the University of Pennsylvania; her  MA from the University of Massachusetts.
 
Recommended Resources:
David W. Blight,  Race and Reunion: The Civil War in American Memory (Harvard University Press, 2002).

Sharla Fett, Recaptured Africans: Surviving Slave Ships, Detention, and Dislocation in the Final Years of the Slave Trade (University of North Carolina Press , 2016).

Christina Sharpe, In the Wake: On Blackness and Being (Duke University Press , 2016).

Zora Neale Hurston, Barracoon: The Story of the Last "Black Cargo" (HarperCollins Publishers, 2018).

Tiya Alicia Miles, Tales from the Haunted South: Dark Tourism and Memories of Slavery from the Civil War Era (University of North Carolina Press, 2015).

Charles Waddell Chesnutt, "Dave's Neckliss" (Atlantic Monthly ,1889).