Elena Shih on The Moral Economy of Low Wage Women's Work in the Global Anti-Trafficking Movement
Monday, February 13, 2017
In this episode Thomas Thurston spoke with Elena Shih, an Assistant Professor of American Studies and Ethnic Studies at Brown University and a visiting fellow at the Gilder Lehrman Center, about her work on human trafficking rescue efforts and the politics of labor, gender, and sexuality. Drawing on ethnographic fieldwork in China, Thailand, and the United States, Professor Shih argues that rescue programs create a transnational moral economy of low-wage women's work, replacing traditional wage labor with affective commitments between First World rescuers and their "victims".
---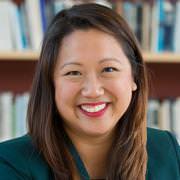 Elena Shih received her MA and PhD in Sociology from the University of California, Los Angeles, and BA in Asian Studies and Women's Studies from Pomona College. Beginning July 2014, she will be a Postdoctoral Fellow in International Studies at the Watson Institute, and in Fall 2015 will join the faculty in the Department of American Studies as an Assistant Professor of Women's and Gender Studies.
Her research on transnational social movement and market responses to human trafficking in China, Thailand, and the United States, has received funding from the Social Science Research Council, American Sociological Association, Ford Foundation, Freeman Asia Foundation, and U.S. Department of Education. Shih's dedication to community-based and participatory ethnographic research methods has been recognized by numerous grants and awards from the Asian Pacific American Labor Alliance, Japanese American Community Services, the UCLA Institute for Research on Labor and Employment, and the UCLA Center for the Study of Women Constance Coiner Award for commitment to working-class, feminist issues and social change. She is a former Fulbright Fellow to the Zhongze Women's Legal Counseling and Service Center (formerly Beijing University Center for Women's Law Studies and Legal Aid), and researcher for the United Nations Inter-Agency Project on Human Trafficking (UNIAP) China Office. Read more about Elena here.
---
Elena Shih's Recommended Resources:
The Empower Foundation, (2012), Hit and Run: Sex Worker's Research on Anti-trafficing in Thailand (link to report).

The Empower Foundation, (2012), Last Rescue in Siam. [youtube https://www.youtube.com/watch?v=70rPAxLFFKU&w=400&h=250].

Emi Koyama, Eminism.org.