Carolyn Roberts and Sascha James-Conterelli on Race, Health, and Medicine in times of COVID 19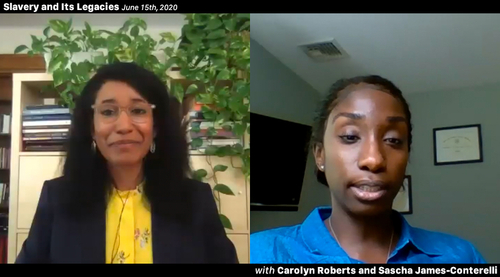 ---
GLC Director, David W. Blight talks with Carolyn Roberts and Sascha James-Conterelli on Race, Health, and Medicine during the COVID 19 global pandemic.
---
Carolyn Roberts is an historian of medicine with a joint appointment in the departments of History/History of Science and Medicine and African American Studies.  Professor Roberts' research interests concern early modern medicine, where she explores themes of race and slavery, natural history and botany, and African indigenous knowledge in the Atlantic world.  
Professor Roberts is currently working on a book project called "To Heal and To Harm: Medicine, Knowledge, and Power in the Atlantic Slave Trade."  This manuscript represents the first full-length study of the history of medicine in the British slave trade.  The book's narrative is centered around the pharmaceutical and medical labor performed by a largely unknown group of African and British women and men, both enslaved and free.  In studying their labor, her project illustrates how the slave trade functioned as an insidious, and even ghostly, knowledge project which pushed the boundaries of pharmacy, surgery, and natural history.  Professor Roberts vividly traces how the slave trade contributed to the development of the pharmaceutical industry, the modernization of medicine, and the advancement of natural history. 
Professor Roberts is an award-winning educator who teaches undergraduate and graduate courses in the history of medicine from the sixteenth to the twenty-first centuries.  Her classes explore medicine, natural history, and epistemology in the context of early modern empires, slavery, the Atlantic slave trade, and in African American history more broadly.  Professor Roberts' teaching also blends history with medical sociology in order to explore present-day crises of race and health. 
Professor Roberts received an M.A. and PhD from Harvard University, an M.A. from Andover Newton Theological School, and a B.A. from Dartmouth College in Hanover, NH.
---
Sascha James-Conterelli received her bachelor's in nursing from Howard University and her masters in midwifery and doctorate from New York University. She has been practicing midwife for 17 years. 
James-Conterelli professional journey has been unique and broad reaching with practice settings in both the public and private sector. In 2005, she added political advocacy and policy to her clinical work opening the door to many exciting opportunities for advocacy of midwives to be recognized as invaluable stakeholders in perinatal care. These experiences cemented her idea of the importance of education which led to her transition to full-time professor in 2014 while maintaining clinical practice.
James-Conterelli recently joined the nursing and midwifery faculty at Yale School of Nursing and will continue to maintain her clinical practice as a member of the Yale community. She is privileged to serve as the president of ACNM's New York State affiliate; New York State Association of Licensed Midwives (NYSALM). She is also honored to continue to have opportunities to provide my knowledge and expertise to many national and local policies such as the development of perinatal regionalization for New York State, serving as co-chair on Governor Cuomo's Maternal Mortality and Racial Disparities Task Force as well as a member of New York State's Maternal Mortality Steering Committee and New York State Maternal Mortality Review Board.  James-Conterelli recognizes the importance of global outreach and have dedicated efforts towards assisting the midwives and the perinatal community in her home of the Virgin Islands and Puerto Rico as they continue to struggle with devastation in the aftermath of Hurricane Maria.