Alejandro E. Gómez on Antislavery Sentiments in the Spanish Atlantic
In this episode Marcela Echeverri, an Assistant Professor of History at Yale University, spoke with Alejandro E. Gómez, Maître de conférences of Latin American History at the Université Sorbonne Nouvelle-Paris 3 and a fellow at the Gilder Lehrman Center, about his research on the socio-racial perceptions of individuals within the Spanish Atlantic who advocated in favor of or against slavery, the slave trade and/or discrimination of free coloreds in the long 19th century. Gómez highlights changes and continuities over time regarding the social representations of Afro-descendants.   
---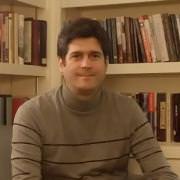 Alejandro E. Gómez holds a doctorate from the Ecole des Hautes Etudes en Sciences Sociales. His principal areas of research include socio-racial issues, revolutionary conflicts, and the study of sensitivities in the Greater Caribbean and the Atlantic World. He is currently a Maître de Conférences of Colonial Spanish America at the University Charles de Gaulle-Lille 3.
---
Alejandro's Recommended Resources:
Blackburn, Robin. The Overthrow of Colonial Slavery: 1776-1848. Version Publishing; New Edition. April 18, 2011.